Excerpt from A Test of Wills
Chapter One
In this quiet part of Warwickshire death came as frequently as it did anywhere else in England, no stranger to the inhabitants of towns, villages, or countryside. Sons and fathers had died in the Great War; the terrible influenza epidemic had scythed the county—man, woman, and child—just as it had cut down much of Europe; and murder was not unheard of even here in Upper Streetham.
But one fine June morning, as the early mists rose lazily in the warm sunlight like wraiths in no hurry to be gone, Colonel Harris was killed in cold blood in a meadow fringed with buttercups and cowslips, and his last coherent thought was anger. Savage, wild, black fury ripped through him in one stark instant of realization before oblivion swept it all away, and his body, rigid with it, survived the shotgun blast long enough to dig spurs into the mare's flanks while his hands clenched the reins in a muscular spasm as strong as iron.
He died hard, unwilling, railing at God, and his ragged cry raised echoes in the quiet woods and sent the rooks flying even as the gun roared.
In London, where rain dripped from eaves and ran black in the gutters, a man named Bowles, who had never heard of Colonel Harris, came into possession of a piece of information that was the reward of very determined and quite secret probing into the history of a fellow policeman at Scotland Yard.
He sat at his desk in the grim old brick building and stared at the letter on his blotter. It was written on cheap stationery in heavy ink by a rounded, rather childish hand, but he was almost afraid to touch it. Its value to him was beyond price, and if he had begged whatever gods he believed in to give him the kind of weapon he craved, they couldn't have managed anything sweeter than this.
He smiled, delight spreading slowly across his fair-skinned face and narrowing the hard, amber-colored eyes.
If this was true—and he had every reason to believe it was—he had been absolutely right about Ian Rutledge. He, Bowles, was vindicated by six lines of unwittingly damaging girlish scrawl.
Reading the letter for the last time, he refolded it carefully and replaced it in its envelope, locking it in his desk drawer.
Now the question was how best to make use of this bit of knowledge without burning himself in the fire he wanted to raise.
If only those same gods had thought to provide a way . . .
But it seemed, after all, that they had.
Twenty-four hours later, the request for assistance arrived from Warwickshire, and Superintendent Bowles happened, by the merest chance, to be in the right place at the right time to make a simple, apparently constructive suggestion. The gods had been very generous indeed. Bowles was immensely grateful.
The request for Scotland Yard's help had arrived through the proper channels, couched in the usual terms. What lay behind the formal wording was sheer panic.
The local police force, stunned by Colonel Harris's vicious murder, had done their best to conduct the investigation quickly and efficiently. But when the statement of one particular witness was taken down and Inspector Forrest understood just where it was going to lead him, the Upper Streetham Constabulary collectively got cold feet.
At a circumspect conference with higher county authority, it was prudently decided to let Scotland Yard handle this situation—and to stay out of the Yard's way as much as humanly possible. Here was one occasion when metropolitan interference in local police affairs was heartily welcomed. With undisguised relief, Inspector Forrest forwarded his request to London.
The Yard in its turn faced a serious dilemma. Willy-nilly, they were saddled with a case where discretion, background, and experience were essential. At the same time, it was going to be a nasty one either way you looked at it, and someone's head was bound to roll. Therefore the man sent to Warwickshire must be considered expendable, however good he might be at his job.
And that was when Bowles had made his timely comments.
Inspector Rutledge had just returned to the Yard after covering himself with mud and glory in the trenches of France. Surely choosing him would be popular in Warwickshire, under the circumstances—showed a certain sensitivity for county feelings, as it were. . . . As for experience, he'd handled a number of serious cases before the war, he'd left a brilliant record behind him, in fact. The word scapegoat wasn't mentioned, but Bowles delicately pointed out that it might be less disruptive to morale to lose—if indeed it should come to that—a man who'd just rejoined the force. Please God, of course, such a sacrifice wouldn't be required!
A half-hearted quibble was raised about Rutledge's state of health. Bowles brushed that aside. The doctors had pronounced him fit to resume his duties, hadn't they? And although he was still drawn and thin, he appeared to be much the same man who had left in 1914. Older and quieter naturally, but that was to be expected. A pity about the war. It had changed so many lives. . . .
The recommendation was approved, and an elated Bowles was sent to brief Rutledge. After tracking the Inspector to the small, drafty cubicle where he was reading through a stack of reports on current cases, Bowles stood in the passage for several minutes, steadying his breathing, willing himself to composure. Then he opened the door and walked in. The man behind the desk looked up, a smile transforming his thin, pale face, bringing life to the tired eyes.
"The war hasn't improved human nature, has it?" He flicked a finger across the open file on his blotter and added, "That's the fifth knifing in a pub brawl I've read this morning. But it seems the Army did manage to teach us something—exactly where to place the blade in the ribs for best results. None of the five survived. If we'd done as well in France, bayoneting Germans, we'd have been home by 1916."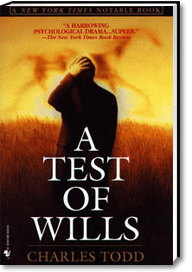 ISBN: 9780061242847
ISBN10: 0061242845
Imprint: Harper
More:
Buy the Book: