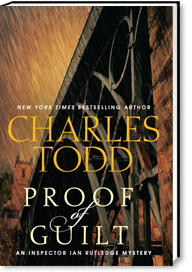 Proof of Guilt
Scotland Yard's Ian Rutledge must contend with two dangerous enemies in this latest complex mystery in the New York Times bestselling series
London, Summer 1920. An unidentified body appears to have been run down by a motorcar and Ian Rutledge is leading the investigation to uncover what happened. While signs point to murder, vital questions remain. Who is the victim? And where, exactly, was he killed?
Read more about Proof of Guilt >
---
The Walnut Tree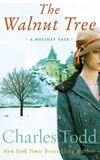 "I was in Paris the day the French army was mobilized."
Summer, 1914. While visiting her friend Madeleine, Lady Elspeth Douglas's life is thrown into chaos when war breaks out and the Germans quickly overrun Belgium, threatening France. Just engaged to Alain, Madeleine's dashing brother, Elspeth watches her fiancé leave to join his unit, and then sets out for England, only to find herself trapped on the French coast.
Follow Charles Todd: